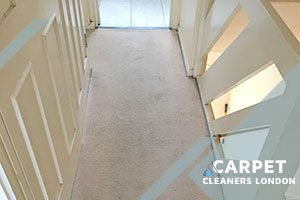 At our company we truly believe that carpets contribute to the elegant vision of a home. If not treated properly, carpets get dirty and lead to serious respiratory issues. As we do not want to put your health in danger, we offer you to take advantage of our carpet cleaning services available in and around Northfields.
With us, you can be sure that your carpet will be ideally clean at all times. Get in touch with us and we will do whatever it takes to get you rid of the unpleasant smells and traces of grime.
Our cleaning sessions include utilisation of steam machine and its hot water extraction method. Put your trust in our cleaners and they will restore your carpets to pristine condition. For a fair price, you can have perfectly sanitised and disinfected carpets again.
Carpet and Upholstery Cleaning Prices
Landing
Carpet

from £

4

Bedroom
Carpet

from £

23

Livingroom
Carpet

from £

25

Upholstered
Armchair

from £

18
Minimum call out charge for Carpet Cleaning £55
FAQ
Should I be worried about your methods?
Absolutely not! We use moder techniques and methods when cleaning anything, including carpets. Our machines are gentle to the fabrics of any carpet, but still rough enough on stains and dirt. We use nature-friendly cleaning products and the condition of your carpeting will not be damaged at all! The colors will be brightened and the carpet itself – softer than before!
Can you clean the carpet in my shop?
Yes! We offer our services for carpets in houses, flats, commercial properties, hotels, restaurants – basically any type of property that involves carpets as part of the interior. You can safely use our carpet cleaning services in your office or commercial property and we will be glad to deliver the best results to you!
How long does the whole cleaning procedure take?
The carpet cleaning service we provide, usually takes a few hours. We have the right tools and products, and we are prepared to stay as long as needed, to make sure your carpet is perfectly cleaned and refreshed!
Are your professionals really that professional?
The teams of cleaning experts are absolutely professional in all terms of the word! They are polite and ready to comply with your recommendations! They know how to approach different cleaning problems and make sure your carpets are perfectly clean before they leave! They are highly motivated to exceed your expectations!
Your best alternative in Northfields
Local Carpet Cleaning London presume that most of you vacuum in regular manners, but do you really think it is enough? No matter how often you vacuum, sooner or later you will find yourself in need of a professional carpet cleaning service and we advise you to choose ours. We have proved thousands of times that we are worth booking and trusting.
"I like your company's professional cleaning services because your prices are bearable and your services are delivered by experienced and knowledgeable people. Thanks to your help, my carpet still looks as good as it did when I bought it. I will book your service again"
"For me, the way my home looks is of essential importance and that's why I want to keep my carpet spotless at all costs. So, I rely on your company's professional carpet cleaning services. Not only are you diligent and attentive, but your cleaning products are environmentally friendly. Your cleaning technician managed to eliminate every stain from my carpet, too"
"What people can expect from your company's carpet cleaning services is dedication, complete stain and odour elimination, all that at affordable prices. If it weren't for your cleaning company, I would have probably had to replace my carpet a long time ago"
About Northfields
Northfields is an affluent town positioned within the capital's third largest borough- Borough of Ealing (West London) and it is excellently connected to Central London.
Northfields has an impressive selection of schools such Little Ealing Primary School, Mount Carmel Catholic Primary School and Fielding Primary School. The area is also rich in churches and sports facilities. Meanwhile, the great number of parks and green spaces turn Northfields into a desirable area for many young professionals and families who prefer the village feel rather than the hustle and bustle of central London.
Offering a bunch of independent shops, boutiques, restaurants and cafeterias the area of Northfields has turned into the perfect place to live in. Some of the most notable residents of this area were Charles Blondin (acrobat and tightrope walker), Dusty Springfield (pop singer) and John Quincy Adams (former president of the United States)