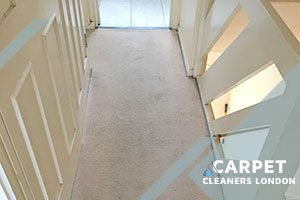 Carpet stains can be pretty tough to clean and our company understands very well that sometimes the carpet cleaning chore requires the techniques of professional cleaners.
This is why we have been working on our professional cleaning service for a long time and we assure you that we can take the best care of your precious carpet.
Local Carpet Cleaning London utilize high-quality cleaning tools and products and this helps us to achieve brilliant results every time we perform our carpet cleaning service. Give us a call and we will prove you our excellence right away. We always strive to achieve the highest level of quality which no other cleaning company in Hammersmith can achieve.
Carpet and Upholstery Cleaning Prices
Landing
Carpet

from £

4

Bedroom
Carpet

from £

23

Livingroom
Carpet

from £

25

Upholstered
Armchair

from £

18
Minimum call out charge for Carpet Cleaning £48
FAQ
Should I be worried about your methods?
Absolutely not! We use moder techniques and methods when cleaning anything, including carpets. Our machines are gentle to the fabrics of any carpet, but still rough enough on stains and dirt. We use nature-friendly cleaning products and the condition of your carpeting will not be damaged at all! The colors will be brightened and the carpet itself – softer than before!
Can you clean the carpet in my shop?
Yes! We offer our services for carpets in houses, flats, commercial properties, hotels, restaurants – basically any type of property that involves carpets as part of the interior. You can safely use our carpet cleaning services in your office or commercial property and we will be glad to deliver the best results to you!
How long does the whole cleaning procedure take?
The carpet cleaning service we provide, usually takes a few hours. We have the right tools and products, and we are prepared to stay as long as needed, to make sure your carpet is perfectly cleaned and refreshed!
Are your professionals really that professional?
The teams of cleaning experts are absolutely professional in all terms of the word! They are polite and ready to comply with your recommendations! They know how to approach different cleaning problems and make sure your carpets are perfectly clean before they leave! They are highly motivated to exceed your expectations!
Call our company if you are looking for perfect results
The cleaning experts who work for us are the biggest professionals in entire Hammersmith and they always know how to tackle every stain with ease. If you decide to trust us, we will make sure to match all your requirements and provide the most satisfying carpet cleaning service.
We know that buying a new carpet is way too expensive and this is why we offer our budget-friendly service which will help you enjoy a carpet which looks as good as brand new one but this pleasure won't cost you a fortune.
"Your representative has just left and I would like to share with you how satisfied I am with his work. The carpet was cleaned entirely for less than an hour. I am really impressed with the level of cleanliness and would certainly use your services again. You really are a reliable cleaning company."
"Thank you for sending us a carpet cleaner this morning. The fellow ringed the bell exactly at 11 o'clock, inspected the carpet and started cleaning it. As promised, he wasn't using any toxic cleaning products. The carpet was left in excellent condition and we are very happy."
"I recommend this company to everyone, who needs a carpet cleaner. We used their services several days ago and everything from the booking to the actual cleaning was perfect. Polite office assistants, thorough cleaner and discounted prices. Excellent cleaning service, which I will book again with pleasure."
About Hammersmith
Hammersmith is a district in the west part of London and is located near Kensington, Chiswick, Fulham and Barnes. The area is known as one of the key employment and commercial centres of London and also as a major centre of London's Polish community.
If you go to Hammersmith and you want to see interesting places of it, here is a short list of the area's landmarks which definitely deserve your attention: Hammersmith Bridge – London's oldest suspension bridge; Riverside Studios – a venue, which was once owned by the BBC and gives an opportunity for watching a contemporary theatre, cinema, dance and etc.
It is also a good idea to see the London Ark, which today is an office block where not everyone is allowed to go in, but it is definitely worth it to be viewed at least outside, due to the fact that it is a unique feat of the modern architecture.