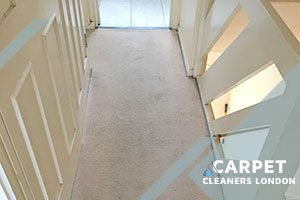 Clean carpets brighten up every room and ensure a healthy living environment. Therefore one should organise a profound cleaning on regular basis. If you don't possess the necessary time and specialised cleaning equipment to tackle this intimidating duty, our company is at your disposal around the clock in Brentford.
Local Carpet Cleaning London command a team of well-trained and knowledgeable individuals with an excellent understanding of customer service. Supplied with high-powered cleaning equipment, our representatives are able to work in an eco-friendly manner and ensure the best possible result. Your satisfaction with their work is guaranteed.
Carpet and Upholstery Cleaning Prices
Landing
Carpet

from £

4

Bedroom
Carpet

from £

23

Livingroom
Carpet

from £

25

Upholstered
Armchair

from £

18
Minimum call out charge for Carpet Cleaning £48
FAQ
Should I be worried about your methods?
Absolutely not! We use moder techniques and methods when cleaning anything, including carpets. Our machines are gentle to the fabrics of any carpet, but still rough enough on stains and dirt. We use nature-friendly cleaning products and the condition of your carpeting will not be damaged at all! The colors will be brightened and the carpet itself – softer than before!
Can you clean the carpet in my shop?
Yes! We offer our services for carpets in houses, flats, commercial properties, hotels, restaurants – basically any type of property that involves carpets as part of the interior. You can safely use our carpet cleaning services in your office or commercial property and we will be glad to deliver the best results to you!
How long does the whole cleaning procedure take?
The carpet cleaning service we provide, usually takes a few hours. We have the right tools and products, and we are prepared to stay as long as needed, to make sure your carpet is perfectly cleaned and refreshed!
Are your professionals really that professional?
The teams of cleaning experts are absolutely professional in all terms of the word! They are polite and ready to comply with your recommendations! They know how to approach different cleaning problems and make sure your carpets are perfectly clean before they leave! They are highly motivated to exceed your expectations!
Innovative and reliable carpet cleaning solution in Brentford
For customers' peace of mind, we are currently working by the method of hot water extraction. By injecting purified water into the base of the floor covering, our technician is able to push the trapped pollutants to the surface and extract them from there by the means of a steam machine.
Upon completion of our service, your floor covering will be completely free of grime and almost dry. With us you are guaranteed to receive a service of great value for a great price. Our friendly call centre agents are at your disposal around the clock, so don't hesitate to call them for additional information.
"One month ago I hosted a party for my girlfriend at home and it resulted in my carpets getting covered in stains. I tried cleaning them myself many times but never successfully. I looked online and found your carpet cleaning service. I then hired you and now I enjoy a newly refreshed carpets with a wonderful aroma."
"Your cleaners did a wonderful job cleaning my multi-coloured carpets. It was real nice having them around. They were diligent, kind and very professional. Needless to say, they did an excellent job cleaning my carpets and it all worked out for the best. I even learned a trick or two on how to clean off dirt more easy!"
"I have been battling stains and dirt spots on my carpets for months when I finally decided to employ a professional help. Thank God that I did not ruined my carpets with all the different cleaning materials I used. I am very happy that your technicians were able to clean the stains off completely and refresh them thoroughly without harming the fabric. Big thanks!"
About Brentford
If you are looking for your next holiday destination, Brentford is the place I recommend you to visit. You can easily get to the heart of the capital from here via the Brentford railway station or the nearby South Ealing tube station.
The Grand Union Canal begins here and you can participate in numerous activities down by the river. Among the natural treasures Brentford can offer you are the Royal Botanic Gardens at Kew. Iconic architecture and various rare plants are some of the things you can find there.
An architectural masterpiece, the Syon Park should not be turned a blind eye on. Syon Park is the home of the Duke and Duchess of Northumberland and the building is just as impressive on the inside as it is on the outside. The most popular restaurants here have Italian-inspired menus. My favourite venue is L'oro di Napoli, but The River Café (located in a neighbourhood nearby) is just as good.