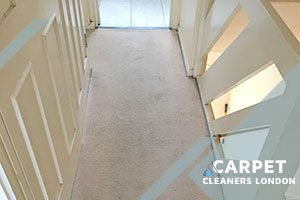 If you are constantly avoiding cleaning your carpet because you are annoyed by how long it takes to clean it properly, then you can save time by leaving this chore to our company's professional cleaners. We provide a top-notch carpet cleaning service which will make your entire carpet look like a brand new one in an instant.
If you are trying to achieve a wonderful look for your favourite carpet, we are definitely the right place to call. Local Carpet Cleaning London have been working in the carpet cleaning business for a long time and we know how to provide our clients with the most satisfying service.
Carpet and Upholstery Cleaning Prices
Landing
Carpet

from £

4

Bedroom
Carpet

from £

23

Livingroom
Carpet

from £

25

Upholstered
Armchair

from £

18
Minimum call out charge for Carpet Cleaning £48
FAQ
Should I be worried about your methods?
Absolutely not! We use moder techniques and methods when cleaning anything, including carpets. Our machines are gentle to the fabrics of any carpet, but still rough enough on stains and dirt. We use nature-friendly cleaning products and the condition of your carpeting will not be damaged at all! The colors will be brightened and the carpet itself – softer than before!
Can you clean the carpet in my shop?
Yes! We offer our services for carpets in houses, flats, commercial properties, hotels, restaurants – basically any type of property that involves carpets as part of the interior. You can safely use our carpet cleaning services in your office or commercial property and we will be glad to deliver the best results to you!
How long does the whole cleaning procedure take?
The carpet cleaning service we provide, usually takes a few hours. We have the right tools and products, and we are prepared to stay as long as needed, to make sure your carpet is perfectly cleaned and refreshed!
Are your professionals really that professional?
The teams of cleaning experts are absolutely professional in all terms of the word! They are polite and ready to comply with your recommendations! They know how to approach different cleaning problems and make sure your carpets are perfectly clean before they leave! They are highly motivated to exceed your expectations!
Enjoy fast, excellent and cost-effective professional help
Book our carpet cleaning service and we will ease the burden on you tremendously. We will help you save your time and energy and even cut down on your spendings. We offer one of the most affordable services in Highbury.
Don't hesitate to share your needs with us and we will satisfy them in no time. Our cleaning experts will make your carpet spotless, they will disinfect it and they will even speed up the drying process with the help of their professional equipment. We offer our help across entire Highbury, seven days a week.
"I have never enjoyed cleaning the carpets and now that I don't have to I am even happier. It is a pleasure having your cleaners come home and clean the carpets. They are diligent, friendly and last, but not least very, very effective and good at removing stains. I swear that I don't know what I would have done without you guys!"
"Cleaning the carpets at home has always been a huge undertaking. I used to spend an entire day or two doing just that. It is such a massive cleaning chore… The day I employed your service for the first time is the day I realized that I don't have to clean them by myself and I was a fool for doing it for a such a long time. I could just have you guys do it instead of me. The service is relatively cheap and effective. I have no objections!"
"It has been two years since I cleaned the carpets and rugs, at home, all on my own. Ever since my friend recommended your service to me you have been more than helpful in keeping my carpets clean and refreshed at all times. With your cleaners handling the cleaning I can relax knowing that my carpets are handled properly and the end results is going to be perfect."
About Highbury
Highbury is a well to do district in North London, offering perfect transport links, lovely open-air spaces and gorgeous Victorian homes. The place boasts also a number of elegant restaurants and original pubs. It is notable to mention that it has been a home to the Wessex Studios for more than 40 years. Here were recorded some of the most popular albums of Genesis, Queen and Rolling Stones.
The Highbury Studios, which included a training school were also once situated in this part of the capital. The Emirates Stadium is one of the local claims to fame. The home of the Arsenal F.C. is the third largest football stadium in the country.
It is notable to mention also the nearby Finsbury Park, where you can find marvellous open-air spaces, gardens and cafes. Among the popular restaurants in Highbury are Jai Krishna and Dotori. The former serves South Indian vegetarian food and the latter offers Korean and Japanese cuisine.