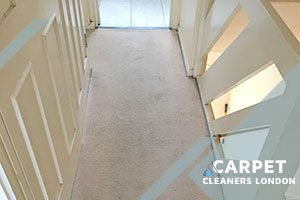 Carpets are an important part of the interior of every home but they are also an item which you shouldn't neglect and you should clean it regularly. Taking a proper care of your carpet will guarantee you that you and your loved ones will always live in a bacteria-free, clean and neat area.
If you want to be sure that your carpet will look amazing at any time, you should give our company a call and book our professional carpet cleaning service. We assure you that you won't regret hiring us and we will provide the best professional help in Enfield Town.
Carpet and Upholstery Cleaning Prices
Landing
Carpet

from £

4

Bedroom
Carpet

from £

23

Livingroom
Carpet

from £

25

Upholstered
Armchair

from £

18
Minimum call out charge for Carpet Cleaning £48
FAQ
Should I be worried about your methods?
Absolutely not! We use moder techniques and methods when cleaning anything, including carpets. Our machines are gentle to the fabrics of any carpet, but still rough enough on stains and dirt. We use nature-friendly cleaning products and the condition of your carpeting will not be damaged at all! The colors will be brightened and the carpet itself – softer than before!
Can you clean the carpet in my shop?
Yes! We offer our services for carpets in houses, flats, commercial properties, hotels, restaurants – basically any type of property that involves carpets as part of the interior. You can safely use our carpet cleaning services in your office or commercial property and we will be glad to deliver the best results to you!
How long does the whole cleaning procedure take?
The carpet cleaning service we provide, usually takes a few hours. We have the right tools and products, and we are prepared to stay as long as needed, to make sure your carpet is perfectly cleaned and refreshed!
Are your professionals really that professional?
The teams of cleaning experts are absolutely professional in all terms of the word! They are polite and ready to comply with your recommendations! They know how to approach different cleaning problems and make sure your carpets are perfectly clean before they leave! They are highly motivated to exceed your expectations!
Get your quote today and enjoy amazing results
Local Carpet Cleaning London encourage you to give us a call anytime it is convenient for you and we will fit your schedule right away and provide our top-notch carpet cleaning service. If you had any worries, it is time to forget them. Our amazing cleaners are all properly trained and they know how to perform the most satisfying service.
You can be sure that your old carpet will look nothing like it used to, once we are done with our cleaning session. Since we utilize cleaning tools and solutions which can tackle any stain with ease, our carpet cleaning service is with the highest quality in entire Enfield Town.
"My wife asked me to find someone to take care of the carpet in the living room. Your prices seemed fine and I gave it a try. The fellow arrived exactly on time and got to work right away. My wife is very pleased with the condition of the carpet and I with your decent prices."
"The fellow that you sent to clean the carpet this morning made a magnificent performance and I can't recommend him enough. Now the floor covering looks amazing and I didn't need to pay a fortune for this. Excellent carpet cleaning service that I will certainly book again."
"We needed a qualified cleaner to take care of the old carpet in the living room and this company was recommended to us. The office assistant was very polite and scheduled our service right away. The technician arrived on the next day and cleaned carefully every area of the carpet."
About Enfield Town
Enfield Town is located north of London and it is part of the Borough of Enfield. It is a suburb center and a market area. St Andrew's Church is the first church in the district associated with parish activities. By the 16th century many houses were brought up around the church's area, which was once a green field.
Streets like Church Street, Silver Street and London Road were the places with highest development and building of residences. A marketplace was established in 1632 and that brought up even more household alongside the three roads mentioned above.
The Gentleman's Row is a path full of fine houses, most of which were brought up around the 18th century. Later that century in 1849 the schoolhouse, which was established by Reverend John Ryland on the Nags Head Road has been transformed into Enfield Town station and was later rebuilt in 1870.