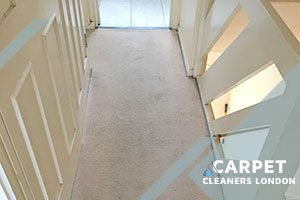 Booking a professional carpet cleaning saves a lot of time and hassle. Experts are trained to utilise specialised cleaning equipment and work in a safe as well as sufficient manner. They know how to deal with every carpet cleaning issue and leave the floor covering free of dust, grime and bacteria.
We are a reliable and trustworthy carpet cleaning provider in Mitcham with extensive experience. Our qualified cleaners are ready for action 7 days per week. For customers' peace of mind, all of them are supplied with high-powered cleaning equipment and work in a safe and sufficient manner. Regardless of the condition of the carpet, our operatives always achieve the best possible result
Carpet and Upholstery Cleaning Prices
Landing
Carpet

from £

4

Bedroom
Carpet

from £

23

Livingroom
Carpet

from £

25

Upholstered
Armchair

from £

18
Minimum call out charge for Carpet Cleaning £48
FAQ
Should I be worried about your methods?
Absolutely not! We use moder techniques and methods when cleaning anything, including carpets. Our machines are gentle to the fabrics of any carpet, but still rough enough on stains and dirt. We use nature-friendly cleaning products and the condition of your carpeting will not be damaged at all! The colors will be brightened and the carpet itself – softer than before!
Can you clean the carpet in my shop?
Yes! We offer our services for carpets in houses, flats, commercial properties, hotels, restaurants – basically any type of property that involves carpets as part of the interior. You can safely use our carpet cleaning services in your office or commercial property and we will be glad to deliver the best results to you!
How long does the whole cleaning procedure take?
The carpet cleaning service we provide, usually takes a few hours. We have the right tools and products, and we are prepared to stay as long as needed, to make sure your carpet is perfectly cleaned and refreshed!
Are your professionals really that professional?
The teams of cleaning experts are absolutely professional in all terms of the word! They are polite and ready to comply with your recommendations! They know how to approach different cleaning problems and make sure your carpets are perfectly clean before they leave! They are highly motivated to exceed your expectations!
Core commitment and reliable cleaning solutions
Book with Local Carpet Cleaning London and receive the best carpet cleaning available in Mitcham. We are currently using the method of hot water extraction, which is recognised as the most powerful carpet cleaning technique. Our technique will first hoover the floor covering and clean all areas by the means of a steam machine.
This manner of cleaning eliminates completely the trapped pollutants and leaves the floor covering in excellent condition. We are certain that you will be very pleased with the achieved standard of cleanliness and consider working with us again.
"What your professional cleaning company does can't be done by any other cleaning company – your cleaning specialists are experienced professionals and they are able to clean the dirtiest carpet. Thanks to your help my carpet still looks as good as new. I'm really glad that you use only Eco-friendly cleaning products, too."
"I was absolutely amazed by your company's professionalism. I had my carpet cleaned by one of your technicians last month and I am absolutely thrilled by the results. Your technician came on time fully equipped with professional cleaning gear and he made my carpet sparkling clean."
"Your carpet cleaning services are the best! I don't know what kind of a cleaning product your technician used, but he completely eliminated every stain from my carpet. Now the carpet looks just as good as it did when I bought it. I am 100 percent satisfied with your services and I will book again."
About Mitcham
Mitcham is part of the Borough of Merton. The suburb is located in the south of London and has an ancient village at its center. Evidence are found of both Roman and Anglo-Saxon burials. The ancient name of the area roughly translates to a large homestead or village.
Gentlemen from the city arranged 'country retreats' during the 17th century- the village had a reputation for its clean air and many people were trying to avoid the epidemics in London during that time.
Mitcham might as well hold the record for the country's oldest functioning cricket ground- games were played there in 1685. Big parts of Mitcham were given for cultivation of plants, shrubs etc. Mitcham is rich of black loam and it boosted the growing of lavender. Others focused on the production of rose and peppermint oil- Surrey Iron Railway was often used to transport Mitcham's product into London.