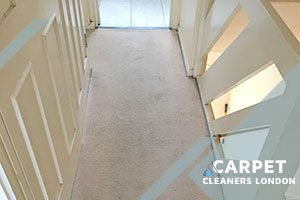 You may hoover the carpets regularly but the microscopic pollutants gather in its base and you can eliminate them only by the means of specialised cleaning equipment. Local Carpet Cleaning London is at your disposal in the entire Walworth. We have the necessary manpower and cleaning equipment to restore the clean condition of your carpet and bring you comfort.
For your peace of mind, we collaborate only with hard-working individuals with prior experience in the area. All of them are professionally trained to apply specialised cleaning equipment and achieve exceptional standards of cleanliness. Our carpet technicians can visit you quickly in the entire neighbourhood.
Carpet and Upholstery Cleaning Prices
Landing
Carpet

from £

4

Bedroom
Carpet

from £

23

Livingroom
Carpet

from £

25

Upholstered
Armchair

from £

18
Minimum call out charge for Carpet Cleaning £55
FAQ
Should I be worried about your methods?
Absolutely not! We use moder techniques and methods when cleaning anything, including carpets. Our machines are gentle to the fabrics of any carpet, but still rough enough on stains and dirt. We use nature-friendly cleaning products and the condition of your carpeting will not be damaged at all! The colors will be brightened and the carpet itself – softer than before!
Can you clean the carpet in my shop?
Yes! We offer our services for carpets in houses, flats, commercial properties, hotels, restaurants – basically any type of property that involves carpets as part of the interior. You can safely use our carpet cleaning services in your office or commercial property and we will be glad to deliver the best results to you!
How long does the whole cleaning procedure take?
The carpet cleaning service we provide, usually takes a few hours. We have the right tools and products, and we are prepared to stay as long as needed, to make sure your carpet is perfectly cleaned and refreshed!
Are your professionals really that professional?
The teams of cleaning experts are absolutely professional in all terms of the word! They are polite and ready to comply with your recommendations! They know how to approach different cleaning problems and make sure your carpets are perfectly clean before they leave! They are highly motivated to exceed your expectations!
About our innovative cleaning methods in Walworth
When our technician is in your home, you can be confident that the right cleaning expert is cleaning your carpet. They will start with a pre-cleaning inspection and thorough hoovering. After that, every area of the carpet will undergo a profound cleaning. In the end, moisture extraction and deodorising will take place.
Hundreds of people tried our carpet cleaning and received a cleaning solution tailored to their individual needs and peace of mind. This couldn't be the other way round because we constantly search for new ways to offer even better service. Give us a call and learn more about our company.
"When I first contacted your cleaning company I did it because one of my friends told me that you could spray my carpet and make the fiber liquid-resistant. I have to admit that I didn't believe this was possible. And yet, you proved me wrong. Now my carpet is clean and it will stay like that for a long time."
"Thanks to the amazing work of the cleaner which this company sent, my old and heavily soiled carpet now looks spotless. I am glad that thanks to the carpet cleaning service of this company I am able to enjoy a clean carpet which somehow is even fluffier than before. The fee which I paid was also to my liking."
"After a family dinner at my house my carpet was looking disastrous and I couldn't bear the thought of spending an entire day in vacuuming and scrubbing stains. This is why I decided to hire the professional carpet cleaning service of this company. The cleaner who carried out the service was amazing and managed to clean my carpet in an instant."
About Walworth
Walworth is part of the Borough of Southwark and is located east of Newington. The district has a long history but has plenty of social disadvantages. Evidence of people living in the area since the Stone Age have been found as well as a mammoth remains.
As the traffic from London increased many tradesmen built their settlements here. Today's Walworth Road had but a few houses back in the 17th century. The area was famous for its large varieties of fruits and vegetables and the first one to settle here were mostly tradesmen who set up shops near the road.
Many signs of Walworth's early development and constructions still remain to this day. Surrey Square is considered a grand example- it was build in 1780 by an architect named Michael Searles(also the man who built Blackheath's Paragon. The rapid growth of the population in the 19th century boosted the building process of both houses and churches.